Almost 2 dozen Waterstone Mortgage loan originators have been named on Mortgage Executive Magazine's "Top 1% of Mortgage Originators in America" list.
It's safe to say we have some of the best in the biz here at Waterstone Mortgage!
Case in point: nearly two dozen of our loan originators were named on Mortgage Executive Magazine's "Top 1% of Mortgage Originators in America" list for 2019!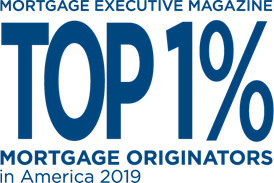 Based on their annual loan volume amounts, these guys and gals have proven themselves to be the cream of the crop.
When it comes to helping homebuyers find the best mortgages for their needs, you really can't find a more dedicated, talented, and skilled bunch. Take a look at what makes our one-percenters so amazing…
Sue Botelho – Ft. Walton Beach, FL
Sue is an "outside of the box" thinker who has helped many of her clients get approved and into their homes quickly. Sue has had many clients that were denied at other lenders, and she worked with them to get them approved and closed with Waterstone Mortgage in a very short timeframe.
Michael Bowen – Albuquerque, NM
Michael has been able to assist many families in obtaining financing, many for the first time, and it never gets old for him. He sees each loan is an emotional investment because every borrower is more than just a loan; he considers them his friends, neighbors, and community members.
Andy Burton – Woodbury, MN
Andy has been in the mortgage industry for over ten years. While he has adapted to the many changes in the industry, he has never lost sight of the true priority: the clients. Andy has hand-picked a team worthy of his vision, which is that of being able to provide the highest possible standard of service and expertise to all his clients.
Eric Cotter – Winter Park, FL
Eric has more than 10 years of experience in the mortgage industry. Prior to coming on board as a Senior Mortgage Advisor at Waterstone Mortgage Corporation, Eric held positions at Bank of America and Suntrust Mortgage, where he was consistently recognized as a top producer and recipient of President's Club awards for sales volume.
Mike David – Tulsa, OK
As a member of the Oklahoma Mortgage Group (OMG), Mike and his team are committed to providing their customers with the best loan options and services the industry has to offer. Mike's spent almost 20 years serving the people of Tulsa and surrounding Oklahoma communities with their home financing needs.
Jesse DeJacimo – Warren, OH
Jesse has 11 years of mortgage experience. He is very focused on helping clients achieve their dream of homeownership. Jesse always puts himself in the clients' shoes and does whatever he can to assist them and make their homebuying experience as seamless as possible.
John Gabaldon – Albuquerque, NM
John has more than 15 years of experience in the mortgage lending industry and has been a top producer for many of those years. He has a very strong work ethic and enjoys helping his clients achieve their homeownership goals.
Ryan Gilliam – Gilbert, AZ
Ryan has been in the mortgage industry since 2004 and has always been committed to client education and helping them through the entire mortgage process. His team of experienced processors and underwriters focuses on efficiency, honesty, accessibility, attention to detail and keeping current with the ever-changing mortgage industry.
Travis Howard – Southlake, TX
Travis has been in the mortgage industry for over 20 years and has had the privilege of helping thousands of families achieve the dream of homeownership. Travis' elite level of expertise was developed over many years of serving as a loan originator, branch manager, area manager, and owner of a mortgage brokerage for six years.
Nathan Jensen – Gilbert, AZ
With over 15 years of experience in the mortgage industry, Nate understands that every home buying situation is different. As an experienced, bilingual mortgage banker, he approaches each situation with the same motivation and tenacity to find the best solution for his clients' unique needs.
Jasmine Krnjetin – Atlanta, GA
Jasmine has been a trusted Mortgage Banker for more than 14 years. She enjoys meeting with clients, advising them, reviewing loan options, and helping them pick the program that is just right for their situation.
Molly Nadeau-Peterson – Elk River, MN
Molly began her mortgage career in 2000 and has developed her origination business platform by educating her clients, delivering value to her referral partners, and maintaining a high level of integrity during each transaction.
Barb Perry – Boise, ID
Barb has always worked diligently for her clients by keeping their best interests in mind in searching for the right loan product that fits their individual needs. She is a firm believer in following up and keeping all parties in the transaction informed and up to date.
Jason Pike – Albuquerque, NM
For Jason, being a loan originator means providing the best service possible for each homebuyer he serves. He's been in the mortgage lending industry since 1984 and excels when it comes to finding the best home loan solution for each client. If you've been in Albuquerque lately, you may have even seen Jason's face on the side of a bus!
Eric Putt – Lake Mary, FL
Eric joined the mortgage industry in 2005. With a mindset that drives him to always close on time and to ensure a smooth closing process for his clients, Eric has achieved great success in the mortgage industry.
Bill Rabold – Gilbert, AZ
Bill has been in the residential mortgage business since 1995. Nearly 100 percent of his business comes from repeat clients or referrals from clients, Realtors, financial advisors, accountants, and attorneys.
Mike Smalley – Winter Park, FL
Mike has earned President's Club status each year since joining Waterstone Mortgage with the help of past client and Realtors referrals. He is an accomplished public speaker and holds monthly training workshops for Realtors across Florida.
Gwen Swain – Boise, ID
Gwen has been with Waterstone Mortgage since April 2017 and works mostly with first-time homebuyers and families relocating from out of state. Her passion is helping clients achieve the dream of homeownership in the most cost-effective way possible to suit their short-term capabilities and long-term financial goals.
Christine Turpen – Albuquerque, NM
Christine offers her clients a broad range of mortgage products to meet their individual needs. In addition to 15 years of experience in the home loan industry, she also has extensive knowledge of USA Cares Certified Military Housing.
Congratulations to all these loan originators, who help make homeownership possible for thousands of families and individuals nationwide!