What really happens when you buy a house? Sure, you have to find your dream home and apply for a mortgage, but what else goes into purchasing your dream home?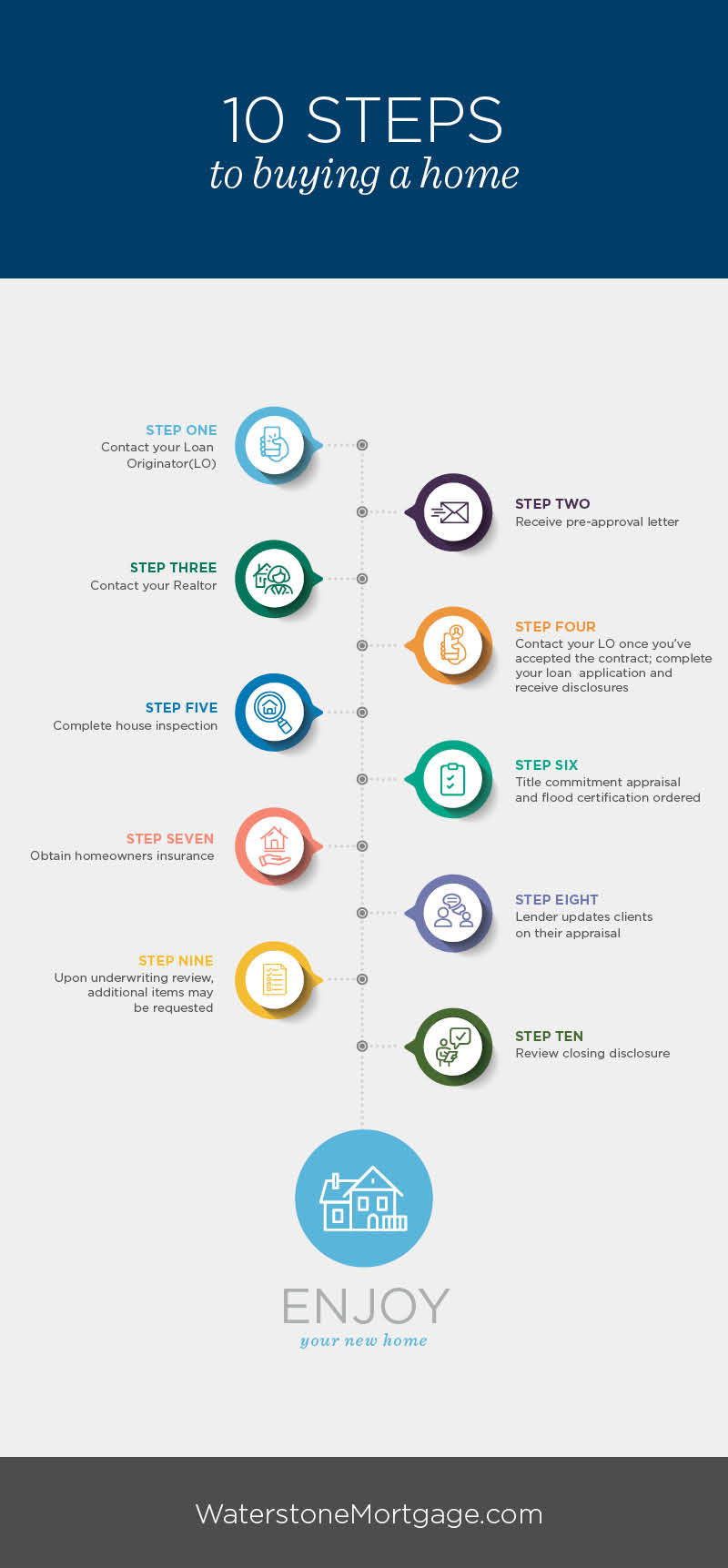 Step One: Find a Loan Originator and Get Pre-Approved
Before you can do anything, it's essential to get pre-approved. The are countless! First of all, your Realtor will know the mortgage loan amount you are approved for and can help you find homes within that budget. Plus, it allows you to make a strong offer whenever you're ready. A pre-approval letter from a reputable mortgage lender is the next best thing to cash in the eyes of a seller and their agent.
Step Two: Contact Your Realtor and Find Your Home
Once you've been pre-approved, your loan originator can refer you to a trusted Realtor. Being in the real estate industry, our loan originators have worked with thousands of Realtors, so they can provide a solid recommendation on who is the best of the best. Then, you can start the fun part: shopping for your dream home!
Step Three: Make an Offer
With a pre-approval letter in hand and your dream home in mind, it's time to make an official offer. Worst case scenario, if your offer is declined, you'll have to go back to the drawing board. But if it's accepted, it's time to move forward with step four of the home buying process!
Step Four: Complete Your Mortgage Application
Now that you've finalized your new home choice, you know exactly how much of a mortgage loan you'll need. At this point, you can complete your application and provide your loan originator with any information they didn't collect during the pre-approval process. Good news: since you've been pre-approved, they already have the majority of the necessary information. This makes completing the loan application easy-peasy!
Step Five: Get Homeowners Insurance
This isn't the most glamorous step, but it's necessary to move things along. Before you can go further, you'll need to obtain homeowners insurance (not to be confused with private mortgage insurance, or PMI).
Step Six: Title Commitment Appraisal and Flood Certification are Ordered
Next, our team will order a title commitment appraisal and flood certification. These are checkpoints to protect you and your home; a title commitment is essentially the title company's pledge to issuing title insurance after closing, and the flood certificate just states the flood zone status of your property.
Step Seven: Complete the Home Inspection
A home inspection is recommended to determine the value of your new house. The findings may open the door for you to renegotiate the purchase price or ask the seller to cover repairs. Your Realtor can help you determine what to do once the report is completed.
Step Eight: The Underwriting Review
Now is the moment you've all been waiting for: the underwriting review!
All jokes aside, it is an important part of the homebuying process. Our in-house underwriters will review your application, necessary documents, and determine if you have the ability to repay the loan. At this point, they may request additional items if anything is missing.
Step Nine: Review the Closing Disclosure and Close Your Loan
A closing disclosure is a document that provides all the final details about your mortgage loan. This gets down into the nitty-gritty of your projected monthly payments, loan terms, additional fees, etc. Basically, it contains all the information about your mortgage you could ever need. Your loan originator will go over your closing disclosure and closing costs with you so you can ask them any questions you may have before signing on the dotted line.
If everything looks good, you can head to the closing table! You'll meet with the seller of your new home, your Realtor, and your seller's agent to go over the final details, present your down payment and closing costs payment (if applicable), and get the keys to your new home.
Step Ten: Enjoy Your Dream Home
Okay, now is the moment you've actually been waiting for. All the time, money, and paperwork is all worth it when you step into your new home for the first time and can truly call it your own. There's nothing like it!
If you're interested in starting the homebuying process, find a local mortgage expert in your area today. We'll take you from step one to step ten in no time.