A Platinum Credit Approval allows you to present the next best thing to a cash offer.
When it comes to making an offer on your dream home, you want to be as confident as possible – and a Platinum Credit Approval (PCA) from Waterstone Mortgage is the strongest home loan pre-approval you can receive.
Imagine this… you are house hunting when you find an absolutely perfect home. With no time to waste, you move ahead with making an offer. Then, you get a disappointing phone call from your Realtor the next day; the seller has decided to accept another offer from a buyer with a stronger offer.
Our Platinum Credit Approval program is perfect for individuals who are actively searching for a home, want to present a stand-out offer (the next best thing to a cash offer), and who would like to ensure a speedy closing process.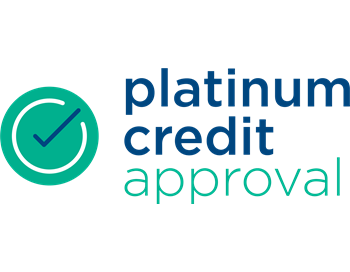 How to Get a Platinum Credit Approval
The PCA process starts just like the regular mortgage pre-approval process. A Waterstone Mortgage underwriter will review your credit, income, and other documentation to determine the mortgage loan amount you are financially capable of repaying. This will also help you solidify your budget for your new home.
Then, your loan will be fully credit underwritten before you begin making offers on homes. (This is what sets a Platinum Credit Approval apart from a traditional pre-qualification or pre-approval letter.)
Finally, all that's needed from here is proof of property value (e.g., appraisal) and adequate insurance (e.g., insurance binder).
Benefits of a Platinum Credit Approval
Getting a Platinum Credit Approval takes a little bit of time and effort up front, but, for many homebuyers, the benefits are entirely worth it.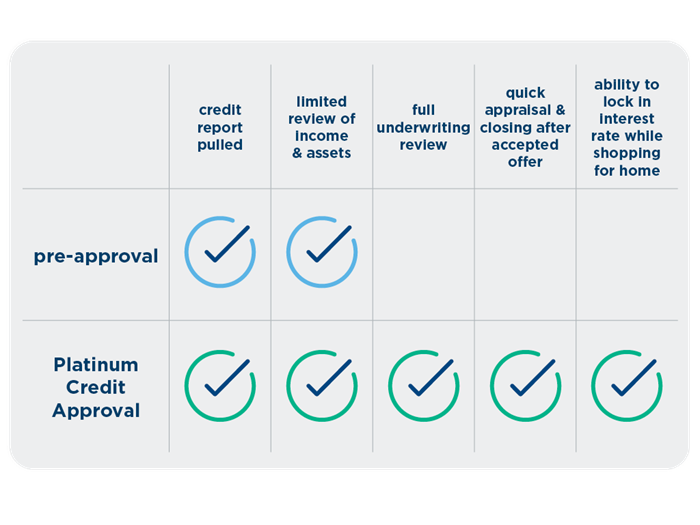 Shop for a Home Confidently
Knowing "how much" house you can afford before making offers will make your home search process easier.
For instance, if you are approved for a $200,000 loan and you have $10,000 for a down payment, you can set your budget at no more than a home price of $210,000 – as opposed to estimating how much you can spend on a house, and your offer falling through because you can't secure financing for the full amount.
Stand Out From Other Buyers
In a competitive market, a PCA makes your offer more impactful than other buyers who haven't been pre-approved for a mortgage yet. In fact, it's nearly as strong as an all-cash offer.
When a seller receives several offers on their home, they often look for a few key factors when choosing the winner – one of which is security. Most sellers want to accept an offer that allows them to rest assured the rest of the transaction will go smoothly.
Because your loan is fully credit underwritten before your offer is even accepted, presenting a Platinum Credit Approval shows sellers your offer is serious, and financing is unlikely to fall through.
Close Faster
Full credit underwriting upfront allows the loan process to proceed quickly, as most of the heavy lifting is done before your offer is even accepted. This means you'll close faster and you can get into your new home sooner.
Lock & Shop
A Platinum Credit Approval also allows you to take advantage of Waterstone Mortgage's Lock & Shop program.
Once you've received a PCA, you can lock in your interest rate for up to 90 days while you shop for a home. If interest rates rise while you're house hunting, your rate will not be impacted. Plus, your closing process can move even quicker since your rate is already locked in.
Don't lose a perfect home to another buyer. Begin the Platinum Credit Approval process, so you can shop confidently. Contact a local mortgage expert in your area to get started today.
A Platinum Credit Approval is a pre-approval program offered by Waterstone Mortgage. In accordance with federal regulations, consumers are not required to provide verifying documents until they have submitted an application, received a Loan Estimate Disclosure, and stated their intent to proceed with the loan transaction. A pre-approval is not an offer to enter into an agreement, which must be made separately and in writing, and should not be construed as a commitment to lend. Waterstone Mortgage is not obligated to close and fund a loan unless all terms and conditions of the pre-approval have been met. Once a property is selected, Waterstone Mortgage must order and receive a satisfactory flood zone determination, property appraisal, and a satisfactory private mortgage insurance certification, if required. Waterstone Mortgage reserves the right to cancel a pre-approval in the event of any material misrepresentation in the customer's application, in the event of an adverse change in the customer's credit history, employment, income, assets, debt, or other factors affecting their financial status, or if the above requirements are not satisfied.