We're honored to serve as a sponsor for the 2017 Habitat for Humanity Housing Champions Luncheon!
Each year, our employee engagement team chooses one local organization to support in a year-long fundraising campaign. This year, we chose Habitat for Humanity of Waukesha County, the chapter that is located less than 10 minutes away from our corporate office in Pewaukee, Wisconsin.
Choosing to support Habitat for Humanity in 2017 was a no-brainer. The non-profit provided affordable housing and improved current conditions for 3 million people last year alone. In 2016, the Waukesha chapter in particular built twice as many homes as they did the year prior. We play a key role in the homebuying process as a mortgage lender, so we couldn't pass up the opportunity to support such an incredible organization that helps community members achieve their dream of homeownership.
So far in 2017, we have raised thousands of dollars for Habitat for Humanity through events such as a month-long donation match program, car wash, and bag toss tournament. We have also hosted a variety of volunteer days, giving employees the opportunity to spend their entire day helping build homes in the area.
As a continuation of our support, we're thrilled to announce that we will be teaming up with WaterStone Bank to serve as a Platinum Hammer Sponsor at Habitat for Humanity of Waukesha County's upcoming Housing Champions Award Luncheon.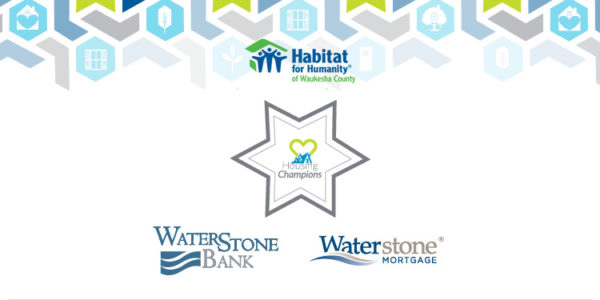 The event takes place to honor local businesses and volunteers who have served as catalysts for providing affordable housing in Waukesha County and supported the local Habitat for Humanity chapter. This year's Housing Champion Award recipients include Southeastern Wisconsin Regional Planning Commission (SEWRPC), RiverGlen Christian Church, Bill Goodman of Wallboard Inc., and local volunteer Jim Lawler.
The Housing Champions Awards Luncheon will be held on Thursday, October 19 at 11:30 a.m. at the Marriott West in Waukesha. Tickets are available now for anyone who would like to attend. All proceeds will go to Habitat for Humanity of Waukesha County.