Waterstone Mortgage's newest digital platform brings all elements of the loan process into one easy-to-use tool
When it comes to innovative technology, simplicity is a beautiful thing!
That's why Waterstone Mortgage created Element, an all-in-one platform for our customers, Realtor partners, and loan originators. Element is a digital experience that makes the loan application and loan approval processes simple and streamlined – saving time for everyone.
Because Element is a technology solution that is exclusively available for Waterstone Mortgage customers, business partners, and loan originators, no other mortgage lender offers the convenience of this tool.
And, did we mention that it looks pretty cool, too? Element is sleek and intuitive, making it that much easier to accomplish your goals by a specific deadline.
Element Features for Homebuyers
When you're buying a home or refinancing your current mortgage, you want everything to go as smoothly as possible. So do we.
That's why Element has unique, proprietary features that allow our customers to complete much of the home loan process on their phones, tablets, computers, or mobile devices. And it can be done from anywhere – in the comfort of their homes or while they're on the go.
Within Element, Waterstone Mortgage clients can:
Apply for a mortgage loan
Track the progress of their loan approval
Download pre-approval letters
View important messages and alerts about their loan process
Securely upload documentation
Electronically sign (eSign) documents
Check the reviews they have given their loan originator(s)
Use the "How to Close on Time" calendar feature
Use mortgage calculators
Manage their loan
Element Features for Loan Originators
Another fantastic part of Element is the many features our loan officers can access. These make it easier for them to manage their clients' home loans, serve our customers effectively and quickly, and close our loans faster.
Our mortgage professionals use Element to:
Monitor real-time updates on clients' loan progress
Customize their dashboard so they can organize their clients' loans by dates, loan milestones, or loan program type
Generate pre-approval letters for their clients
Set custom notifications for when loan documents are missing, a lock is expiring, or a file is clear-to-close
Email document requests to their clients
Notate interactions with their clients
Search for pricing, lock in a mortgage interest rate, and extend rate locks
Track their own loan production goals and progress
And that's just scratching the surface! Element truly is an all-in-one tool that allows our loan originators to work more efficiently, so they can provide the best service for our customers. It really is that simple.
In fact, here's what our LOs have to say about Element: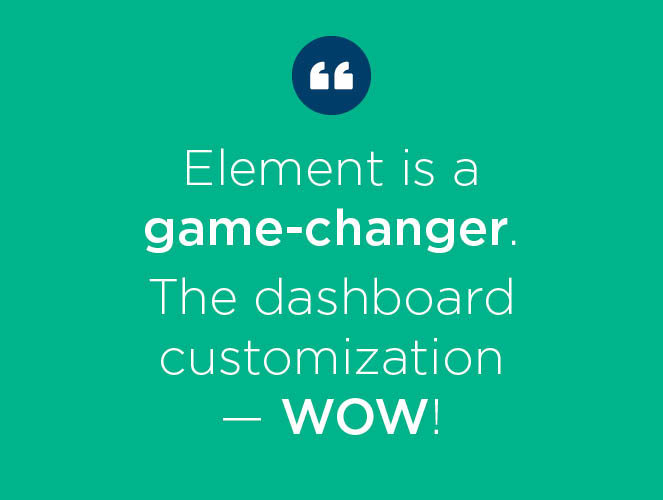 "Access is very user-friendly! I love the Loan Documents feature – moving documents is so easy."
"Super cool."
"Amazing! Element is basically Encompass on my phone – with all the details I need."
"Pretty slick."
"Element is a game-changer. The dashboard customization – WOW!"
"I really like the funding details screen."
"Very handy."
"Element is simple and clean for customers to use."
Accessing Element
If you're ready to get started on your home loan journey, reach out to a Waterstone Mortgage loan professional in your area. We'd be happy to get you on the right track and set you up with access to Element.