Mortgage Executive Magazine named Waterstone Mortgage one of the 50 Best Companies to Work For in 2018.
We were recently named one of the "50 Best Companies to Work For" by Mortgage Executive Magazine. This year, we ranked as the #2 company of 50!
Mortgage Executive Magazine selects the top 50 mortgage lending employers by surveying loan originators around the nation. Lenders are ranked by their own employees in the areas of loan processing, underwriting, compensation, company culture, management, marketing, and technology. The recognized companies have the highest ratings, as well as the greatest number of responses from their respective loan originators.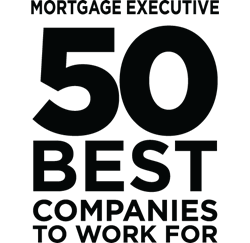 "We are honored to receive this recognition as one of the best mortgage lenders to work for," said Waterstone Mortgage CIO Tom Knapp. "At Waterstone Mortgage, we strive to create a positive, collaborative, and engaging work environment that encourages our employees to grow and excel in their professional lives."
"Waterstone Mortgage's company culture is due to the outstanding work ethic of our employees," added Tom. "Not only do they provide the best possible service to our customers and business partners, but they also work collectively to help their colleagues succeed."
Learn more about working with us.