A temporary buydown allows homebuyers to lower their interest rate for the first several years of their mortgage loan, helping them ease into ownership and save money.
A temporary buydown is a mortgage loan option in which the seller reduces the interest rate for the first 1-3 years of the homebuyer's loan.
Who Can Benefit from a Temporary Buydown?
A temporary interest rate buydown can benefit all parties involved.
Homebuyers benefit as they're able to ease into their mortgage a little more gradually. In addition to rising costs of goods, there may be extra costs associated with buying a house like a down payment, closing costs, mortgage insurance, etc. Everyone's situation is different, but it's always nice to be able to offset those extra expenses with a graduated payment.
Homebuyers aren't the only ones who reap the benefits of a buydown, though. If you're selling your house, you likely want to sell it as quickly as possible. Offering a temporary buydown can give homebuyers an extra incentive to purchase your property without you having to lower the list price.
How Does a Buydown Work?
The seller or builder covers the difference between what your payment typically would be and the adjusted, bought-down rate.
If you are in the process of purchasing a home, you can ask your Realtor to negotiate a buydown with the seller (or builder, if you're purchasing a new construction). If you need some help getting started, contact a Waterstone Mortgage loan professional today – we can walk you through the process.
Interest rate buydowns are typically offered in a 3-2-1, 2-1, or 1-0 format.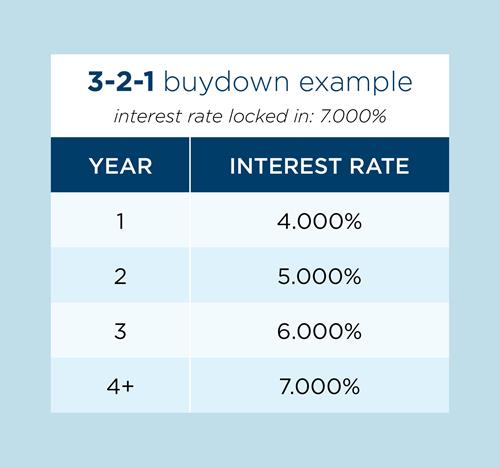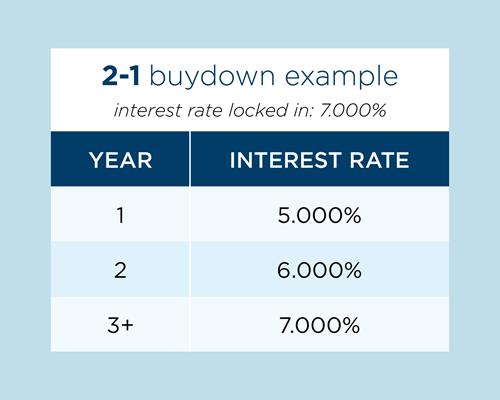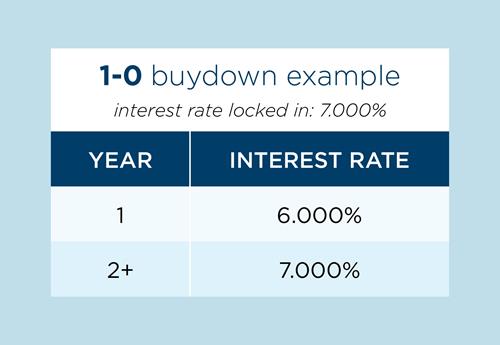 Temporary Buydown Example
If you've locked in a 7.000% interest rate, a 3-2-1 buydown would allow you to make monthly payments at a 4.000% interest rate for the entire first year of your mortgage. Then, in year two, your payments would be based on a 5.000% interest rate. In the third year, your payments would be based on a 6.000% interest rate. Finally, once you hit year four and for the remaining life of your loan, your payments would reflect your originally-agreed-upon 7.000% interest rate.
The same process would follow for a 2-1 buydown, except your interest rate would be reduced for years one and two, then resume your locked interest rate in year three. For a 1-0 buydown, the interest rate is reduced by 1% for the first year before adjusting to the original rate.
Interested in purchasing a new home, but like the idea of easing into your mortgage payments? Contact a Waterstone Mortgage loan professional today to get started.
Realtors and builders, if you're interested in facilitating a 3-2-1, 2-1, or 1-0 buydown for one or more of your clients, find a Waterstone Mortgage loan originator in your area.