Led by Matt Fenster, our new branch is ready to serve homebuyers and homeowners in the greater Middletown area.
We are excited to welcome our new branch, serving the Newport County, Rhode Island area and its surrounding communities.
Branch Manager Matt Fenster has almost 20 years of experience working with with homebuyers looking to purchase a new house and current homeowners who are interested in refinancing. Plus, he's passionate and knowledgeable about Newport, Middletown, and the surrounding towns.
We chatted with Matt to get a better idea of his plans for the Newport branch and learn why he was interested in joining our team. Check it out!
WMC: How does the Newport area appeal to you and your team, professionally?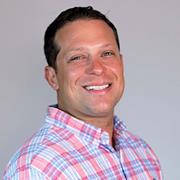 Matt: I feel if you want to have a presence in a certain area – such as Newport County – in this industry, it is important to have something that drives you. The sense of community in the Newport area drives the motivation and sense of ownership that we have as professionals at Waterstone Mortgage. There is a sense of pride that we have when we say we are able to do business in one of the most scenic, historical, and thriving markets in all of the country.
Our motivation is to enable people to accomplish their dreams, whether it may be a young family looking to lay downs some roots, a retired couple looking to downsize in a coastal setting, a relocating military family that fell in love with Newport earlier in their journey, or even folks who want to move across town for that bigger house. The Newport area has become a melting pot of cultures and backgrounds that continues to broaden and grow thanks to ever-growing tourism, a robust education environment, milder New England weather, and a bustling social scene.
WMC: What attracted you to Waterstone Mortgage?
Matt: With a background of working for multiple mortgage firms, I was determined to find a company with products and capabilities that suited all types of homebuyers – but also the type of company my dad would do business with. Waterstone Mortgage is a company that pulls no strings, is upfront and forthcoming, and develops solutions around the customers' situations as opposed to trying to fit the customers' situations into a box.
"Find a way to 'Yes,'" is a phrase that our Chief Operating Officer Rich Tucker uses to describe his team's approach to operations. It empowers our people to take ownership, be more creative, and challenge the status quo. It drives us to be an elite organization. Over time, this philosophy has seeped into all aspects of our business – from finding our borrowers the perfect loan program to our branches operating nimbly in their unique markets. At Waterstone Mortgage, finding a way to "yes," at its core, is placing a high value on trust, respect, and support. In an industry that is cyclical and sometimes challenging, it's this type of leadership that provides a steady ship.
WMC: What has been your impression of our mortgage technology solutions?
Matt: Waterstone Mortgage's innovative technology drives team efficiencies and reduces resource consumption – which, in turn, produces a better experience for my team and (most importantly) our customers. And it's not just innovative technology; it's simple adjustments that are adopted and made that transform how we do business.
I liken Waterstone's technology culture to having two monitors for your computer. Imagine how much time you save by not flipping back and forth between application windows, and how much money you save because you don't have to print everything to reference it. Waterstone's innovation allows my team to do their jobs well, in a streamlined fashion, that produces a positive experience for all stakeholders.
WMC: Which Waterstone Mortgage loan program are you most excited about?
Matt: I am most proud of our Community Heroes Program. It allows a 1% down payment option for eligible police officers, law enforcement employees, firefighters, teachers, school district employees, EMTs, paramedics, nurses, and CNAs. This program has no income restrictions. It is a great way to give back to those that serve us.
WMC: Tell us about your involvement in the Newport community.
Matt: As an active member of the Newport County Board of Realtors, I enjoy being able to make new relationships and be involved in the community. I can network with all types of people that are involved with buying a home – Realtors, mortgage professionals, lawyers, home inspectors, contractors, etc. This enables me to provide each client with a one-stop experience that offers a wealth of knowledge.
---
Matt is currently looking for some positive, highly motivated people to complete his team. If you're interested in a Middletown, Rhode Island-based position (or a position at one of our many other offices around the United States), be sure to check out our Careers page.