Career development and professional growth are important to us at Waterstone Mortgage, which is why we're excited to announce these two employee promotions.
2021 is looking bright!
We have some amazing team members here at Waterstone Mortgage. Not only do they excel in their roles, but they also embrace our family-like culture. When they go above and beyond, we love to reward their hard work by helping them advance in their career paths. Case in point: Brian Wesselhoff and Casey Seefeldt, who were both recently promoted.

Brian Wesselhoff, VP – Information Technology
Brian joined Waterstone Mortgage in the spring of 2018 as our IT Manager. At that time, he had more than 20 years of experience in IT management.
During his tenure here, Brian has led several large-scale IT initiatives that have significantly improved the quality and performance of our systems. Brian and his team also led the change to a work-from-home environment at the start of COVID-19, ensuring a seamless transition for our employees nationwide.
In his new role, Brian will continue enhancing our information technology to support many innovative digital initiatives across our lines of business.
"It's exciting to work at a company that invests in and leverages new technology to enhance our competitive advantage," Brian says.
Brian manages a team of seven employees and has experienced no turnover in his staff since joining our company. That's pretty awesome, if you ask us. In fact, Brian believes that our company culture is one of the best parts of his job.
"My favorite part about working at Waterstone is the people – and our collaborative and supportive environment," he says. "It feels more like a family or friendship and less like work."
When he's not working, Brian enjoys spending time with his family, watching his kids play high school tennis, and unwinding by the lake in northern Wisconsin (which sounds amazing).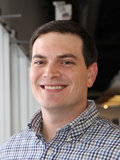 Casey Seefeldt, Director – Capital Markets
In November 2014, Casey joined our Home Office team as a Capital Markets Analyst. At the time, he had 12 years of experience in the mortgage and financial services industries.
Casey is a board-authorized trader who shares daily duties with our VP – Capital Markets, covering pricing, system interface operation, hedging analysis, hedge trading, funded loan commitment trading, and reporting.
As a director, Casey is excited to continue building relationships with our investors and working with vendors to take advantage of new functions and features available to us.
During his six years with us, Casey has also enjoyed amazing work relationships with his colleagues.
"Waterstone Mortgage has employees who go above and beyond to make our customers happy and in turn make our company successful," he says. "The people of our company make it a very special place to work."
Outside of work, Casey enjoys going on bike rides with his family and spending time outdoors (when Wisconsin weather allows, that is). He's a big fan of the Milwaukee Bucks, Milwaukee Brewers, and Green Bay Packers. Casey also likes trying new restaurants (same, Casey, same) and supporting local businesses whenever possible.
Please join us in congratulating Brian and Casey on their promotions!
Are you looking for a career with a company that promotes from within and is focused on your professional development? Check out our current job openings.