Five tips to turn your space into one you'll never want to leave.
Add Texture with Cozy Blankets, Rugs, and Accent Pieces
Texture is everything when it comes to coziness!
A quick way to add texture is with a blanket. Chunky knit blankets not only provide a cozy vibe and work as a trendy décor piece, they're also extremely functional for warming up on the couch.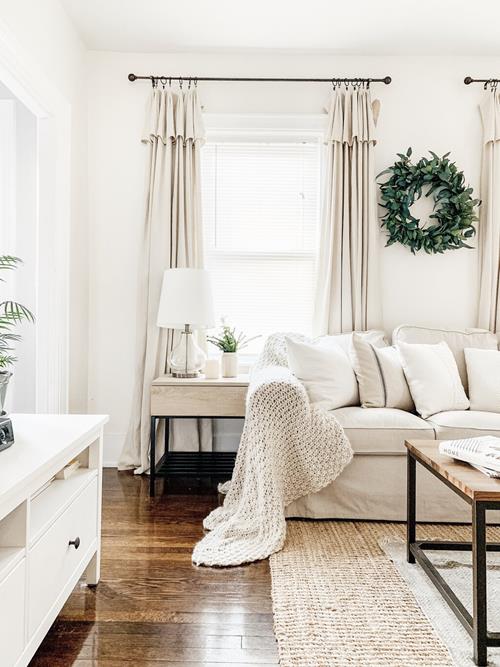 Image: Michaela Diane Designs
Another quick fix? Add a rug to your space! Although it sounds obvious, rugs add a layer of softness between guests and the ground – and that can make all the difference when it comes to coziness.
Go Big with the Throw Pillows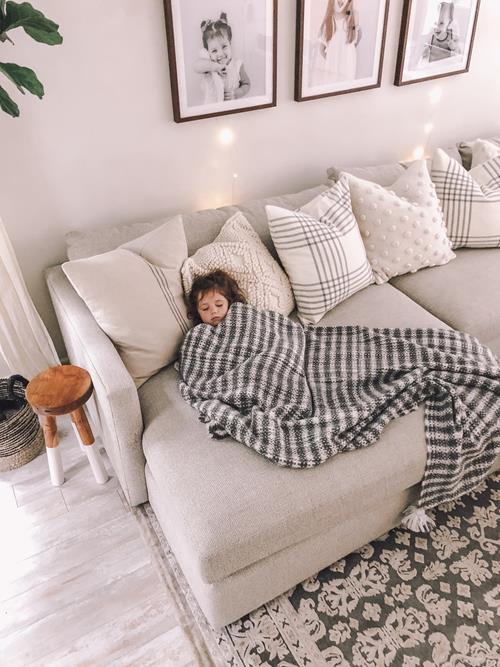 Image: Lynzy & Co.
There's nothing like a big, plush pillow to make you feel warm and cozy. Swap your small, decorative throw pillows for a few larger options ("Euro" size works great) – this will transform your couch into a space family and friends never want to leave.
Add Personal Touches
There is nothing more warm and inviting than seeing photos of family and friends displayed in someone's home.
Keep Colors Warm/Neutral
Picture the coziest space you can think of. What colors do you see?
Warm and neutral colors tend to give off a cozier vibe.
Pro tip: To maximize efficiency and cost savings, keep your major investment pieces neutral in color (think beige, grey, brown, cream, etc.) and add pops of color in the accents like pillows and other décor pieces. Trends change often – and so does our personal style – so keeping it neutral will not only make your space feel cozy, it could also save you from having to purchase new pieces down the road.
Use Greenery to Add Life
A cozy space is one people feel like they can "live" in – you don't want it to feel too sterile, like you can't touch anything. Adding plants and greenery can help you accomplish an inviting vibe.
If you don't have a green thumb, look into artificial plants. They give a similar look and require none of the upkeep! Fresh flowers can also add some life to your space, although they don't last as long.
Keep Things Tidy
"Cozy" doesn't have to mean "enclosed" or "cluttered." In fact, a cluttered space can have the opposite effect. The whole point of a cozy space is that it is warm and welcoming – a place you never want to leave. If your space is messy, it's probably not very inviting.
So, fluff up your big throw pillows, fold your blankets, and make sure everything looks in tip-top shape!
For more tips, visit the Home Life page.