Make your holiday returns and exchanges like a pro.
It's the most wonderful time of the year… right? It might not always feel like it with the endless list of returns, exchanges, and errands you have to do. Here are some dos and don'ts to help you navigate this busy time.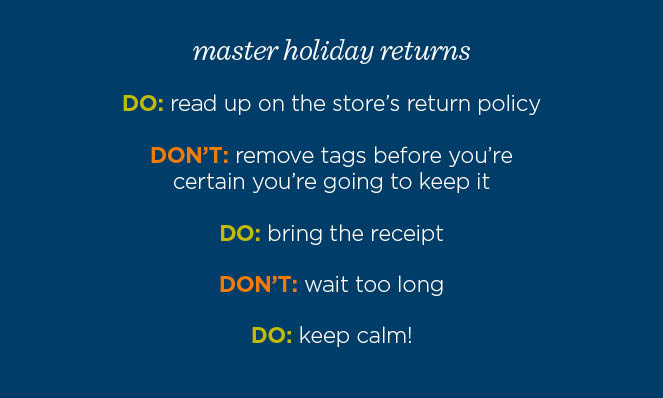 DO: Read up on the store's return policy.
We've all been there: You go to a store to make a return, hand the cashier the item and the receipt, and you receive a gift card in return. In-store credit? Where's my cash?! Before you snap and demand the original amount go back on your credit card, be sure to brush up on their return policy. This policy may vary between traditional purchases and gifted items, so make sure you know what to expect. Here are quick links to the return policies of some retailers you may be visiting:
DON'T: Remove tags before you're certain you're going to keep it.
Oftentimes, the cashier can't complete the return if the original tag is missing. It doesn't matter if you promise you didn't wear the sweater yet, they just can't do it. While not every store has this policy (see above to start your research), it's best to play it safe and keep the tags on.
DO: Bring the receipt.
This makes life so much easier for everybody. Many retailers are lenient around the holidays and will give store credit even without a receipt, but there are no guarantees. If you have it, bring it. Bonus tip: If you're giving a gift, always include a gift receipt.
DON'T: Wait too long.
Believe it or not, some folks have had their holiday shopping done since October. Since you don't know exactly when your gifts were purchased, try to do your returns as soon as possible. The typical return-time is 90 days, which gives you some wiggle room, but it's always best to be proactive.
DO: Keep calm!
We know how much of a nightmare holiday returns can be. Wouldn't it be so great if everyone knew exactly what we like? Unfortunately, sometimes we receive presents that don't fit, we already have, or we just won't use. Remember: everyone is in the same situation. Everyone wants the line to move quickly. Cashiers can't control the store's policies. Just take a deep breath, remain patient, and keep smiling. After all, it's the most wonderful time of the year.
Soon enough, the chaos will be over and you'll get to gather with family and friends to enjoy your fabulous presents — or at least what you exchanged them for.