Debbie is the third winner of this Waterstone Mortgage award, which is given to an employee who exhibits extraordinary commitment, sincerity, and dignity inside and outside the workplace.
The Kim Newby Heart of the Champion Award was designed to honor one of our team members who brings purpose, authenticity, enthusiasm, and positive energy to the workplace.

Each year, the recipient of this award is known as someone who shows extraordinary commitment and caring for their team members; who represents Waterstone Mortgage with grace and dignity; and who authentically takes the time to make a difference in their teammates' lives.
This year, we are pleased to share that the recipient of the Kim Newby Heart of a Champion award is Debbie Lucio, our Operations Manager from Gilbert, Arizona. Debbie received the award last month at our 2023 Momentum Sales Conference, during the President's Club Awards Ceremony.
"I felt incredibly honored to learn that I would be receiving the Kim Newby Heart of a Champion Award," Debbie says. "I still cannot believe that I won such a meaningful award."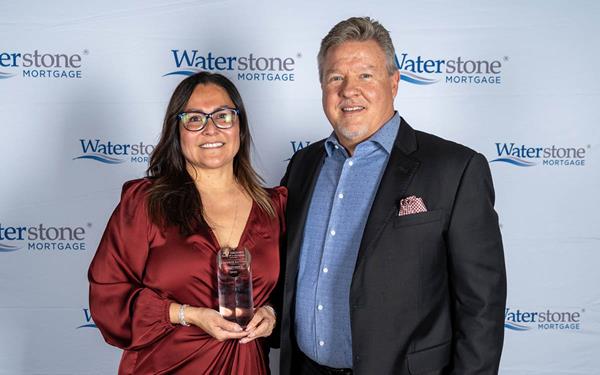 As Debbie's manager, Dan Morse (Branch Manager, Gilbert, AZ), describes her, she "has been the heart of the Gilbert branch for many years and epitomizes the culture of Waterstone Mortgage."
Debbie is the ultimate team player for her branch, and is eager and willing to help whenever a need arises. During their busiest times, Debbie has even stepped in to help process the loans. As things slowed down, she pitched in by helping the loan originators create marketing mailers. "Whatever is needed, Debbie jumps in to make it happen," Dan says.
Debbie's role was expanded in 2022, as she took on the additional responsibilities of helping other new Arizona branches throughout the onboarding process. She has built great relationships with our Home Office teams and handles new requests promptly and efficiently. Debbie was also pivotal in moving the Gilbert branch to its current location.
As Dan explained, Debbie also does a fantastic job of organizing branch events and activities, such as holiday parties, cookouts, branch meetings, and other social events. She has a "can-do" attitude and is an excellent team player.
"I have enjoyed working for Waterstone Mortgage because, over the last 13 years, I have been blessed to build true friendships with kind, loving, and supportive people," Debbie says. "I love that we are forward-thinking in this industry, and that we work together to make each other better."
Debbie has two sons, Jose and Jefrie, who are her greatest joys. She also loves Arizona summers – her favorite time of year!
Outside of work, Debbie is a certified yoga instructor. "I enjoy hot yoga because it helps keep me balanced, spiritually, mentally, and emotionally," Debbie says. "I have grown to learn that it is important to take care of me first in order for me to care for others."