As the holidays "wrap up," keep your home organized and clutter-free.

There is nothing more daunting than the end of the holiday season when all the glitz and glamour is over and it's time for the beautiful decorations to go back into storage. Can't we just keep the Christmas tree up year 'round Putting everything away is such a pain.
…but it doesn't have to be! The following tips can help you organize your holiday decor like a pro AND ensure you know where everything is come next year.
1. Utilize storage containers that best fit your space.
Someone living in a 600-square-foot apartment with one closet isn't going to use the same storage solutions as someone with an entire storage room in their basement. This might seem obvious, but it's all about utilizing pieces that make sense for the space you're living in. If you have the square-footage, large, clear tote bins that allow you to see their contents work great. If you're tighter on space, under-bed and slim storage containers help keep things organized without taking up much room.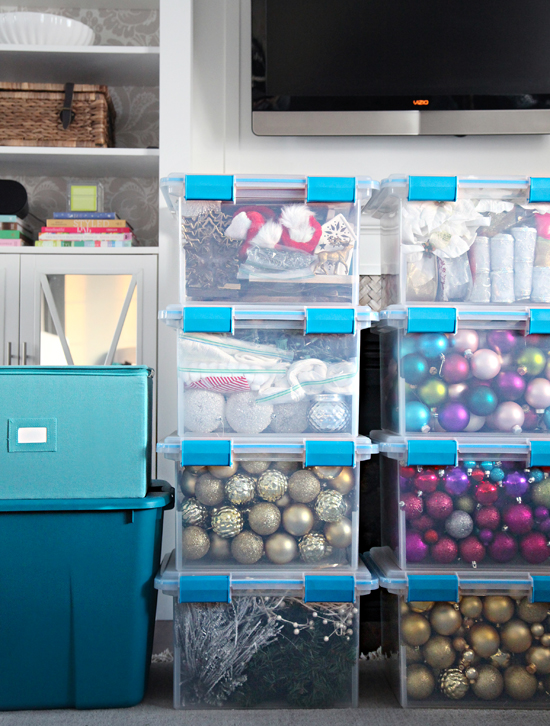 Via iHeartOrganizing
2. Group together items that will make sense to you next year.
One of the worst parts of seasonal decor storage is going to get your decorations the following year and not knowing where anything is. To alleviate this stressor, simply think ahead. For instance, you can store things in categories like mantle decorations (things like stockings, garland, candles), tree decorations (tree skirt, non-fragile ornaments, string lights), wrapping supplies (wrapping paper, tape, bows, bags), etc. based on your inventory. A little extra work now will make it a whole lot easier for you in the long run!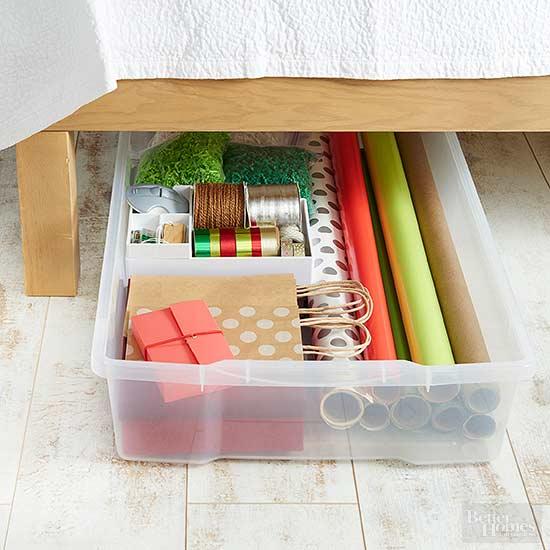 3. DIY it.
We know it seems easier to just tangle your string lights into a ball and be done with them. We know. However, this DIY Christmas light holder is actually super cheap, super easy, and much less stressful. All you have to do is use a spare piece of cardboard as a base to wrap the lights around and voila! No more tangles. Your future self will thank you.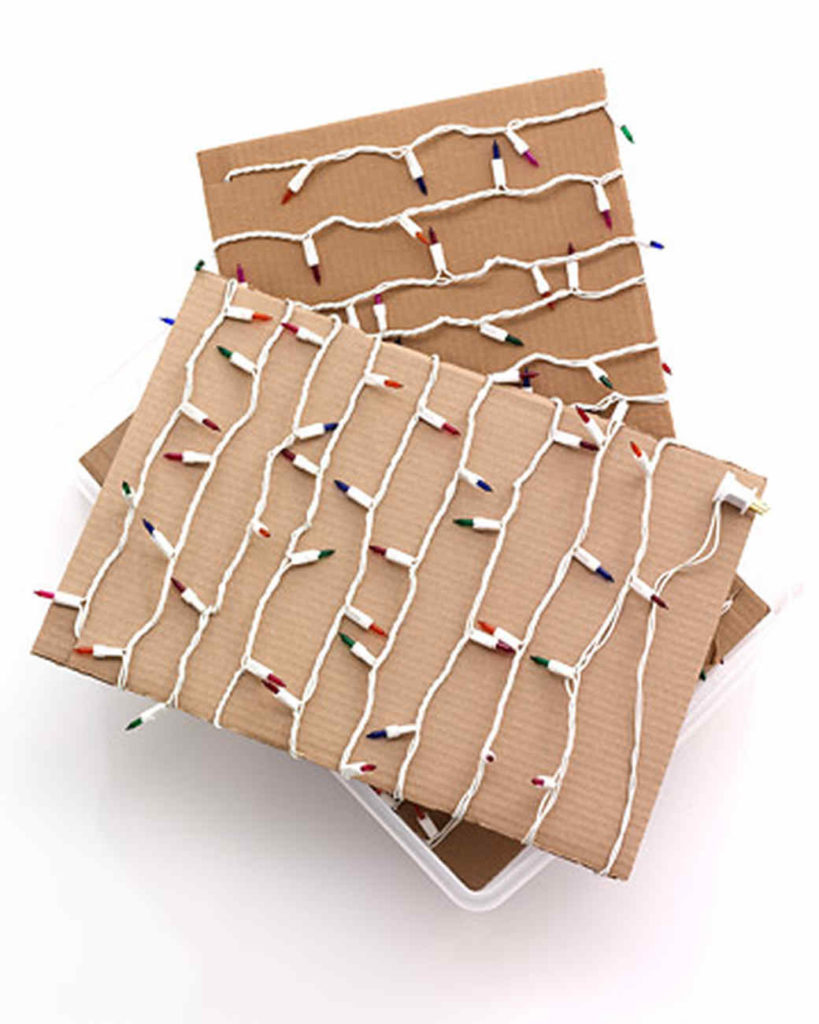 Via Martha Stewart
Packing up ornaments can be tricky. Do you risk it and throw them all in a big tote bin? Or do you go out and buy a fancy storage container? Solution: use those big tote bins to make your own slotted storage container! Martha Stewart has a great hack for storing ornaments and it only requires supplies you likely already have in your home. Simply hot glue some plastic cups to a couple sheets of spare cardboard, place them in a tote bin, and use the slots to separate and secure your fragile ornaments.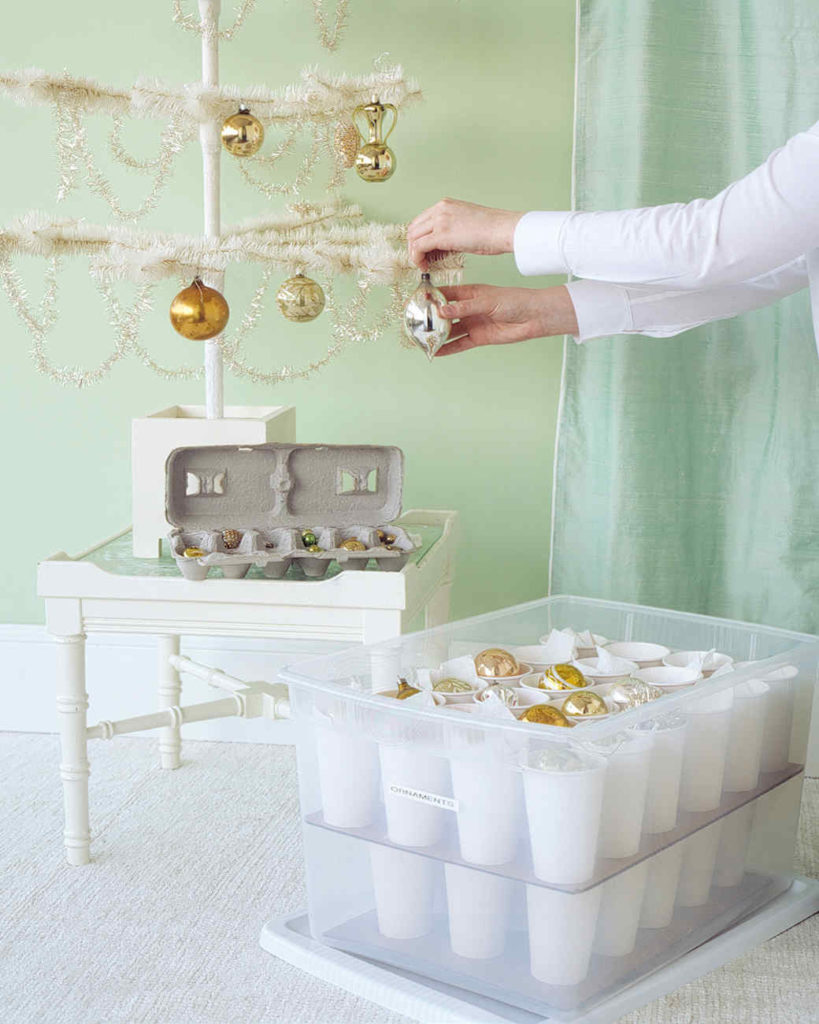 Via Martha Stewart
4. Labels, labels, labels!
Label your boxes, bins, bags — just label it all. This will help clear your head and keep things straight as you put everything away, as well as help you find your decorations more easily next holiday season. You can even download these cute, holiday-themed labels from The Homes I Have Made.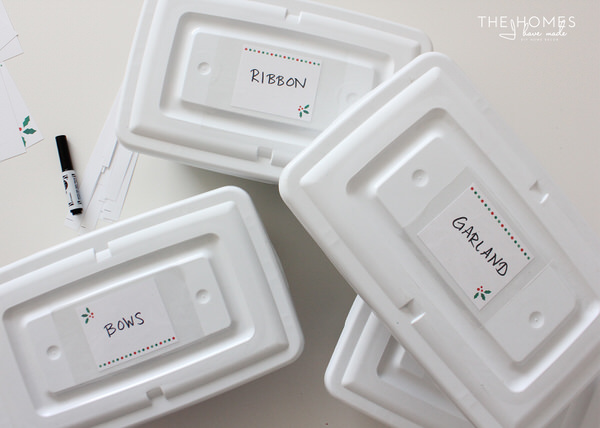 Now, fuel up on the last of your holiday-themed drinks (we'll miss you, peppermint mocha) and get organizing! Happy cleaning!