Did you know Waterstone Mortgage loan originators have access to a tool that can showcase your property listings in just minutes? Think of a Single Property Site as a beautifully co-branded landing page for your listing that includes home information, mortgage loan options, and details about the neighborhood. Single Property Sites can be used for sharing on social media to help gain more interested buyers and shared with your clients to build rapport and give them something beautiful to show their friends and family.
Sellers love the Single Property Sites too! Many times, they will share with their sphere to help market their own home. It's easy from the main page of the property listing website to export PDF flyers that can be utilized at an open house, in display tubes next to your for-sale signs, and more! Have you talked to your Waterstone Mortgage loan originator about how they can help get your property noticed?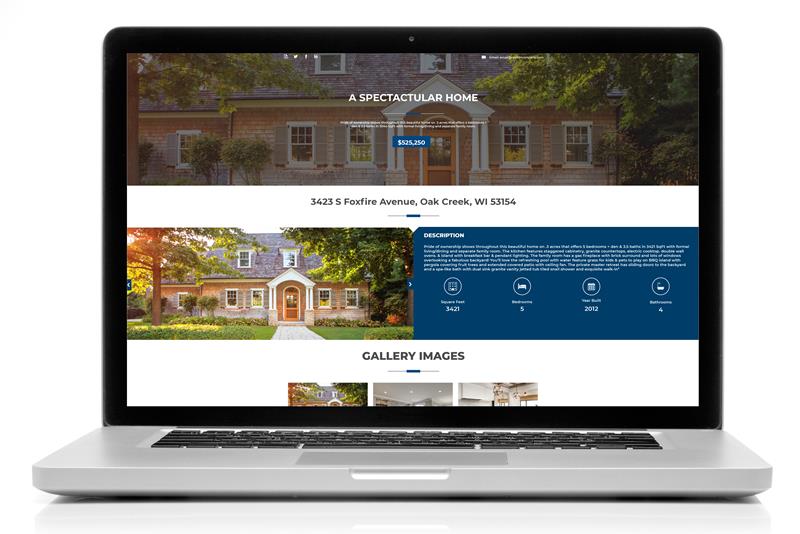 Simple
All that is required for your Waterstone Mortgage loan originator to create your mobile responsive and search engine optimized property listing website is the property MLS ID.
It's easy to co-brand these flyers to include both your and the loan originator's information on the single property sites. Just call your Waterstone Mortgage loan originator and tell them you need help marketing your listing. Give them access to your high-resolution photos, company and/or team logos, and all your contact details. This will get you setup with co-branding.
Streamlined
Single Property Sites give the opportunity to build a listing website for open houses with real estate partners. These websites consistently perform well thanks to creative photographs, optional videos, and concise information. There are several valuable marketing features within the sites, such as:
Information buyers want on the area: Commute, income, demographics, taxes and cost of living
Property images
Payment and Loan Comparisons
Video from YouTube/Vimeo and Mattererport 3D tours if you've created
Mapping tools
Co-branding between loan originator and Realtor partners
Branded with your logo and colors
One-click to generate PDFs for open house flyers
Two types of lead capture forms – Interested in a Showing and Are You Qualified for Financing
Easily share the Single Property Site on your social channels with a single click
The site can easily be displayed digitally at an open house on a tablet, laptop, or projector
Straightforward
Even though your loan originator will be the one creating the physical Single Property Site, there is still a lot you can do to be sure you are providing the best and highest quality content for your buyers.
Information such as commute/income/taxes, payment and loan comparisons, mapping tools, scheduling for showings, and simply social sharing making these sites a one-stop for homebuyers to gain access to all the information they need.
Use eye-catching, high-quality imagery. Hi-res images can increase the likelihood a property listing will be picked up in search services (like Google Images)
Input the most accurate information about the listing and use descriptive phrases to stand out in search results. Property listings with detailed descriptions are an essential part of advertising a home.
Use keywords to trigger the audience's imagination. For example, a young family might be looking for the proximity to primary schools which contrasts with what a maturing couple might want.
Insert video or 3D tours that you've created to make your listing stand out
Don't get left behind, we encourage you to reach out to your Waterstone Mortgage loan originator and start utilizing Single Property Sites today!