FHFA announces conforming loan limits for 2024.
The Federal Housing Finance Agency (FHFA) recently increased the conventional conforming loan limit for one-unit single-family homes from $726,200 in 2023 to $766,550 in 2024.
The loan limit has increased by more than $40,000 – a response to surging home prices and general economic inflation.
Homebuyers can now purchase a home with a conventional loan amount up to $766,550, whereas loans of this amount would previously require a jumbo loan. Jumbo loans serve as an excellent option for those with a higher budget, but they often require a larger down payment and have more stringent credit requirements.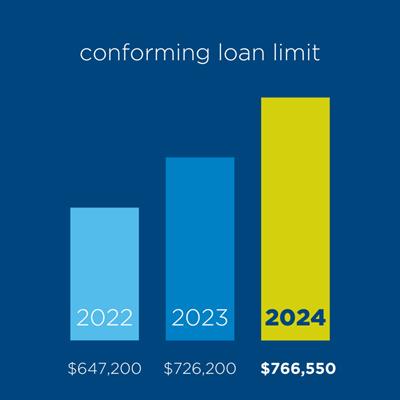 Benefits of Conventional Conforming Loans
Conventional loans, or loans that can be purchased by Fannie Mae and Freddie Mac, provide a more accessible, flexible option for homebuyers. Some benefits include:
Down payment requirement as low as 3%
Credit score requirement as low as 620
Fixed- and adjustable-rate mortgage options
No mortgage insurance required with 20%+ down payment
Conforming Loan Limit Definition
The conforming loan limit is the largest mortgage amount allowed for Fannie Mae and Freddie Mac – the two major mortgage investors – to purchase.
After your mortgage loan is funded, your lender will often sell the mortgage to a government-sponsored enterprise (GSE) like Fannie Mae or Freddie Mac. These are private companies that receive support from the federal government. Selling the loan to them allows lenders to free up their funds so they can fund more mortgage loans.
The conforming loan limit is determined by the Federal Housing Finance Agency (FHFA) and fluctuates annually to reflect the average home price in any given area. Some high-cost areas of the United States have a larger conforming loan limit amount.
The notion of conventional loan limit was established by the Housing and Economic Recovery Act of 2008 in an effort to set boundaries on the types of loans GSEs could purchase (and ultimately prevent another housing market crash).
Is 2024 the year you achieve your homeownership goals? Find a home loan expert in your area today to get started with a pre-approval.