The Federal Housing Administration (FHA) has announced its loan limits for 2022.
The Federal Housing Administration (FHA) has set their loan limits for single-family homes in 2022, ranging from $420,680 to $970,800, effective January 1, 2022.
Rather than providing a single loan limit (like conventional conforming loans), FHA provides a "floor" and "ceiling" – the exact amount for any given property is based on its location. This ensures the loan limit is reflective of housing prices in the area, as opposed to a single amount to cover all FHA home loans across the United States.
You can use the HUD search tool to look up the specific FHA loan limit in your area.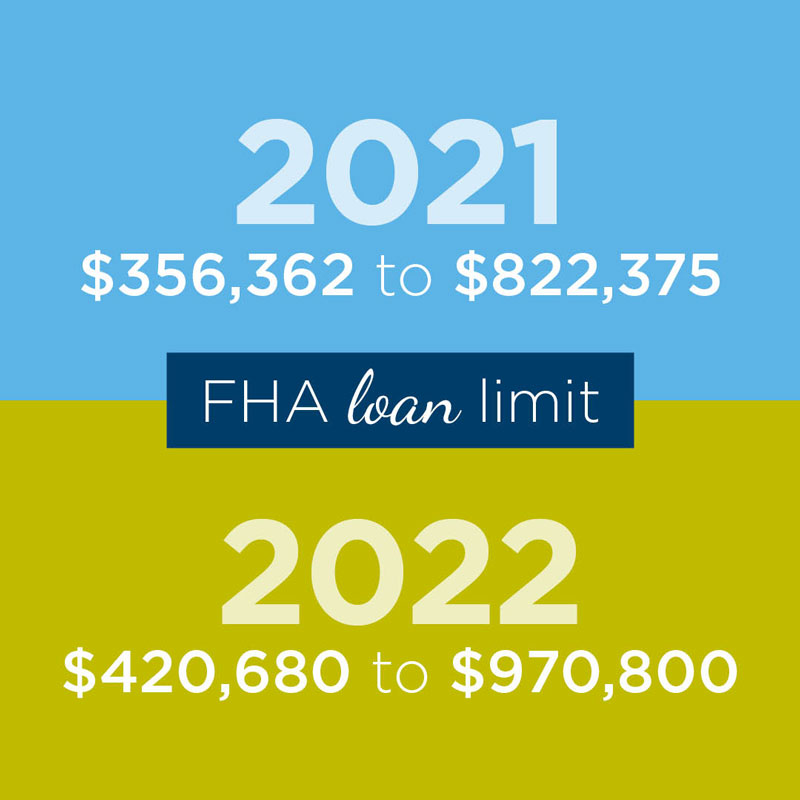 The 2022 loan limit range is set significantly higher than the 2021 range, which was set at $356,362 to $822,375. This is great news for buyers looking to get an FHA mortgage, as more properties with a higher price tag will still allow you to qualify.
Benefits of FHA Loans
FHA mortgage loans are typically easier to qualify for than conventional loans.
Because they are backed by the Federal Housing Administration, FHA mortgages offer more flexible qualification requirements than other loan programs.
Down payment – FHA loans require a down payment of as low as 3.5%. Plus, the full down payment can be gifted by a family member.
Credit score – The FICO requirement for FHA loans starts at 580.
No first-time homebuyer requirement – FHA loans are an excellent option for first-time homebuyers, as the down payment and credit score requirements are flexible, but you do not have to be a first-time homebuyer to qualify for an FHA mortgage.
To learn more about FHA loans or get started with the homebuying process, contact a mortgage professional in your area today.