FHFA increases conforming loan limits for 2021.
The Federal Housing Finance Agency (FHFA) recently increased the conventional conforming loan limit for one-unit single-family homes from $510,400 in 2020 to $548,250 for 2021.
What is the Conforming Loan Limit?
The conforming loan limit is the largest mortgage amount Fannie Mae and Freddie Mac will purchase, making it a "conventional" loan. Any loan amount higher than the conforming limit is considered a "jumbo" loan.
After you've signed off at the closing table and your mortgage loan is funded, your lender will often sell the mortgage to a government-sponsored enterprise (GSE) like Fannie Mae or Freddie Mac. Why? These companies are backed by the federal government, and they allow lenders to free up their funds so they can do more mortgage loans.
The loan limit is determined by the Federal Housing Finance Agency (FHFA) based on an annual survey of housing price average increases and decreases.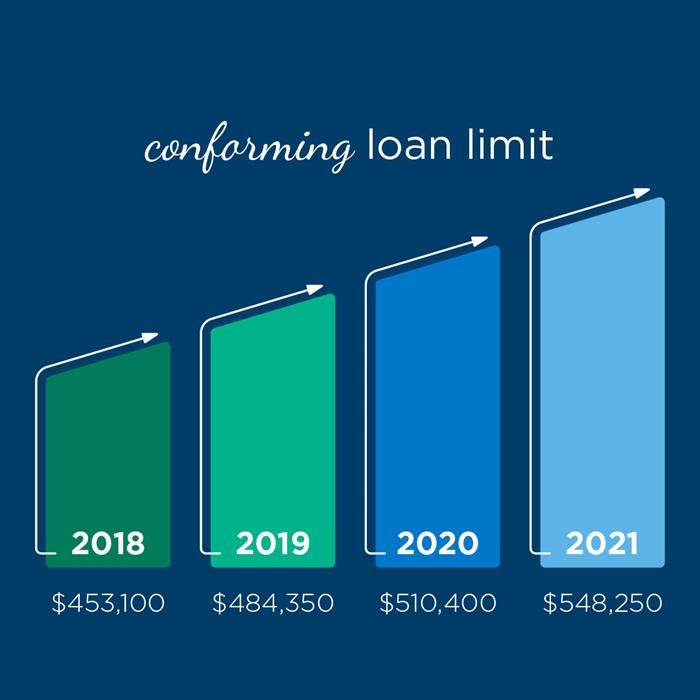 What Does the New Conforming Loan Limit Mean for Homebuyers?
The loan limit has increased by nearly $40,000 – which means you can get a little more bang for your buck. You can now purchase a more expensive home while remaining within Fannie Mae and Freddie Mac's limits. This means loans up to $548,250 (and possibly more in some high-cost areas) can be funded with a conventional mortgage.
While jumbo loans offer more options for those with higher budgets, but they often require a larger down payment and have higher credit requirements. Conventional loans, on the other hand, have a wider variety of requirements and they may be easier to qualify for. Plus, we offer conventional loan programs with no down payment required.
The increased loan limit could be good news for those with existing jumbo mortgage loans, too! If your current mortgage is considered jumbo, but is now within the conforming limits, you can refinance for a lower rate and possibly drop mortgage insurance premiums – which could save you money on your monthly payments and/or over the life of your loan.
Is 2021 the year you achieve your homeownership goals? Find a home loan expert in your area today to get started! We're here to help every step of the way.