Sharon is the second winner of this Waterstone Mortgage award, which is given to an employee who exhibits extraordinary commitment, sincerity, and dignity inside and outside the workplace.
The Kim Newby Heart of the Champion Award was designed to honor one of our team members who brings purpose, authenticity, enthusiasm, and positive energy to the workplace.
This year, we are pleased to share that the recipient of the Kim Newby Heart of a Champion award is Sharon Moser, one of our loan originators from Boardman, Ohio!
Sharon has been a mortgage originator for only a couple of years, but she has already made a huge impact on her community and the customers she has served.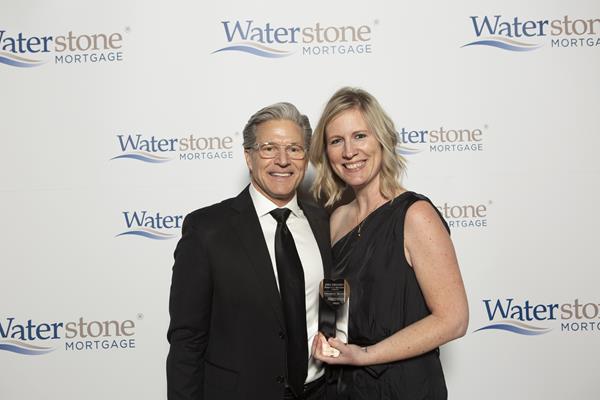 Sharon received MANY nominations for this award. Her teammates describe her as "professional, amazing, and full of constant celebration." They also say that she brings "joy, purpose, authenticity, enthusiasm, and positive energy" to the workplace every day.
In the office, Sharon is constantly providing words of encouragement and baked goodies to her team members. Her uplifting attitude is infectious, and she is known for her amazing work ethic. When a challenging situation arises at work, Sharon is eager to tackle any obstacle with grace and positivity. She also works extra hours to ensure that her clients are taken care of.
Sharon is also known for her thoughtfulness and selflessness outside of work. In fact, she spent her own birthday handing out treats to people on the streets in Youngstown. She also helps the homeless by passing out hats and gloves during the cold months. Sharon is a strong woman of faith, a devoted wife, and an exceptional mother to four children – and she effortlessly balances raising her family and building her career.
According to her manager, Jesse DeJacimo, Sharon is a positive force around the office. When she gets a "clear to close" notification, she always shouts, "Praise the Lamb!" and when she gets bad news, she says, "DeJacimo, I'm going to hunt you down!"
With that said, we know that Sharon is very deserving of the Kim Newby Heart of a Champion Award. But don't take our word for it – check out what her colleagues have to say!
"Sharon is the epitome of kindness and joy! At work, she is professional, amazing, and full of constant celebration; in her personal life, she bakes cookies for neighbors or even perfect strangers. She prays with folks, brings joy, and embodies what the heart of a champion is."
- Sara Cipriano, Loan Originator

"Sharon's goal in life is to help the hurting and give smiles and hugs to people who don't have them! She literally spends her days off in downtown Youngstown passing out gloves and hats to keep people warm. She's an awesome mother, wife, co-worker, and – most importantly – friend."
- Jesse DeJacimo, Branch Manager

"Sharon is always positive, no matter what obstacles she faces. Every day, she is texting, emailing, or posting words of encouragement to rally our troop. She is faith-based, a great listener, a go-getter, and is constantly working at all hours of the day while raising four kids."
- Holly Goist, Processor

"Sharon radiates positive energy, enthusiasm, and encouragement on a daily basis, has such a strong work ethic, and somehow still manages to make it to the gym before work every morning and be an amazing mother and wife to her family. She is such an inspiration to all of us."
- Shelah Mrosko, Loan Originator

"Sharon encapsulates the essence of the heart of the champion award! She has worked with me and my clients to help me close many of my loans. This lady is a class act."
- Deanna Rossi, Loan Originator

"Sharon goes above and beyond to make the people in her community feel loved. She celebrated her own birthday this year by handing out treats to people in her town. Sharon truly has the heart of a champion."
- Robert Winner, Loan Partner

"Sharon brings purpose, authenticity, enthusiasm, and positive energy to the workplace."
- Andrew Goist, Processor
About the Kim Newby Heart of a Champion Award
Each year, the recipient of this award is known as someone who shows extraordinary commitment and caring for their team members; who represents Waterstone Mortgage with grace and dignity; and who authentically takes the time to make a difference in their teammates' lives.
The award was introduced in 2021 and named for our former SVP – Investor Relations & Product Development, Kim Newby, who is currently fighting a courageous battle against cancer. Kim is an inspirational leader and a positive woman who demonstrates grit, determination, and a strong sense of humor every day.
Kim is not only the namesake for this award, but she was also our first recipient. Her optimistic attitude, fierce passion for her work, and her authentic love for people make her an exceptional professional, mentor, and friend.