We are pleased to welcome Andy Peach to the team as our new President & CEO.
The term "servant-leader" is often overused today, but the sentiment behind this phrase is something that resonates with anyone who has ever had an exceptional manager in the workplace.
Servant-leadership is just one of the qualities that we sought in our new President & CEO, and we hit the jackpot when we found Andy Peach.
We recently welcomed Andy to our Waterstone Mortgage team, and could not be more excited to begin this next chapter in our company's story.
Andy has more than 30 years of experience in the mortgage lending industry, including leadership roles in retail, consumer direct, correspondent, and wholesale production. During his career, he has held large-scale regional and national leadership positions for several leading financial services firms such as Pacific Union Financial, Bank of America, JPMorgan Chase, and Lehman Brothers (Aurora Loan Services).
Most importantly, we believe Andy is the ultimate fit for our Waterstone Mortgage culture. His two favorite adages to live and work by are the Golden Rule ("treat others as you would like to be treated") and "get better every day."
When it comes to joining our team, Andy says, "I work for the people of Waterstone Mortgage as much as they work for me. I just happen to be the one trusted with the position of President & CEO."
His approachability, professionalism, and commitment to providing an exceptional homebuying experience are just a few of the reasons we knew he would be an ideal leader for our organization.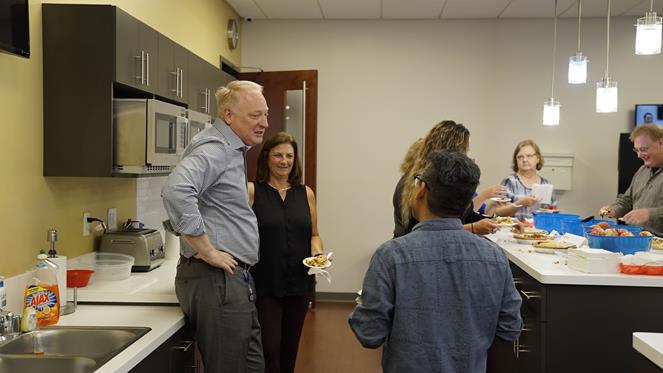 Andy is excited to continue promoting our culture of transparent and consistent communication (with both our internal teams and our customers). Providing the best possible mortgage experience and continuing to foster our positive, engaging work culture are two of his top priorities.
Outside of work, Andy enjoys being involved in his kids' sports. He played soccer in his youth, and currently loves playing golf (although he doesn't think it's one of his strengths!) Andy grew up in Washington, DC, so his professional football loyalties are spilt between the Redskins and the Panthers, but what he really loves is international soccer. Plus, he's a self-proclaimed food and wine enthusiast (aren't we all, Andy, aren't we all?)
Andy is also actively involved in his church, and supports organizations such as "What's Next?" (a program for disadvantaged kids and teens who come from challenging backgrounds) and St. Jude's Children's Hospital.
If Andy could experience any past event, he would watch the fall of the Berlin Wall, because it marked such an important shift in history. On a more amusing note, the celebrity that Andy is most often mistaken for is the actor Jeffrey Jones, who played Principal Ed Rooney in the 1986 classic film, "Ferris Bueller's Day Off." (We can totally see it.)
We are thrilled to welcome Andy to the Waterstone Mortgage team, and believe he will play an important role in our continued growth and development over the coming years.